I pressed the azaleas between the pages
of a book on ancient Egyptian burial practices.
Mummified petals pulled wide by gravity
and rendered fragile by inattention.

Pressure and time make diamonds and oil,
but, add in my touch, and the blooming bushes
that wave from where the sidewalk ends
become light as lacewings.

The signs of spring I had broken off a branch
left an outline of mauve on the tomb picture;
ghosts of a day when I felt alive and killed
something growing to preserve that memory.

I cannot hold what I care about in these hands.
Fragile, the intake nurse stamps my file. Better to be left
in the care of others than to take care of myself. Better
to be taken care of than to fall apart at the slightest touch.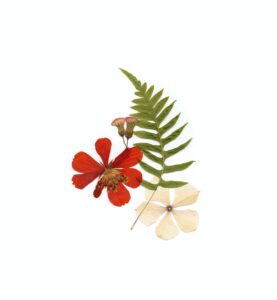 The scent of a still-smoldering summer sunset
on the prairie of my childhood – cottonwoods
consumed in the rich golden hour –
seeps from the maze of my lungs like a sieve.

Carried on that scent is the memory of running though dry grass
under the widest blue sky towards my father's outstretched
arms after the cactus pierced my sole.
I ran like a daughter and – for once – he was actually there.

This time, with help, I may let that remembrance rise
like incense from my expanding chest. I may finally let go
of the pressure, the weight, the time,
and learn how to handle myself with care.